Realizing You Need Funeral Insurance
That may seem like a no brainer but you would be surprised the vast majority of individuals don't take steps into finding funeral insurance until it's too late. Which unfortunately sticks, more often times than not, their family and loved ones with the bill. The fact that you are even reading this article to gain more knowledge puts you ahead of the game.
Lucky for you, we have taken the legwork out of it and will help lead you through the process to find the best type of funeral insurance for you.
Are Burial Insurance Polices a Good Idea?
Burial insurance policies are a great way to mange your final burial expenses, especially if you do not have any existing life insurance policy. Figuring out your funeral and burial needs in advance will help you make small payments over time.
Should I Buy Burial Insurance?

Honestly, it depends entirely on your situation. Your financial status and your family's budget are two considerations that should be factored into deciding. If you have no life insurance coverage we would highly recommend buying burial insurance. That way you will have funds available for paying for your funeral in the future covering your family from any and all unexpected occurred expenses.
Buying Funeral Insurance

Whether you call it funeral insurance, burial insurance, final expense insurance or pre-need insurance… you are looking at for all extensive purposes the same thing. Here is a list of the primary steps and course of action one would take in finding the best type of insurance for their personal needs.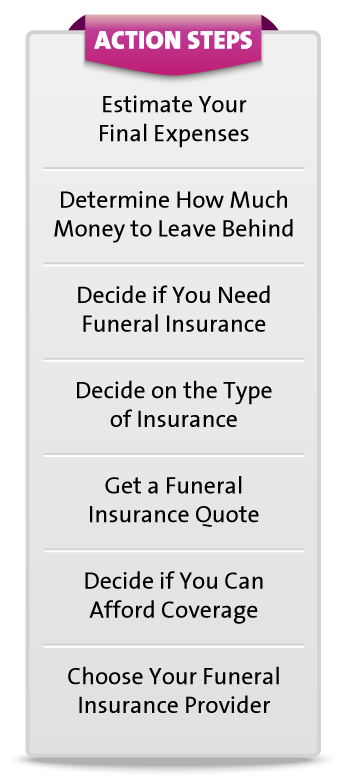 Step 1: Figure out how much you will need to cover the cost of your funeral. On top of that you need to take into consideration additional services that you may need to pay for. This also includes any remaining medical bills, legal costs and outstanding credit card bills.
Step 2: Make sure there is enough money to cover your final expenses. This is something you can start saving for now. The sooner you start putting money aside for your final expenses the better off you will be in the long run. Keep in mind having these funds readily available will help when it comes time to pay for the funeral. This way those funds can be used immediately. Speaking to a financial advisor may help with this step.
Step 3: Figure out if you even need funeral insurance. If you plan on having substantial amount of funds at the end of your life to cover your final expenses you may not necessarily need funeral insurance. However if you do not think you will have available funds to cover your final life expenses then you definitely should look into getting funeral insurance. It will take the burden off of your family and loved ones during an already sad time ensuring that your entire estate will be available to them.
Step 4: Decide on the type of insurance you will want. This step tends to be a bit overwhelming to some. These policies tend to cover between $25,000-$40,000 compared to regular life insurance policies because they are only covering final expenses.
When it comes straight down to it, you're looking for the best policy for you and your family…the best policy that won't necessarily cost you an arm and a leg. When looking for burial insurance you will want to find a plan that has 3 critical components.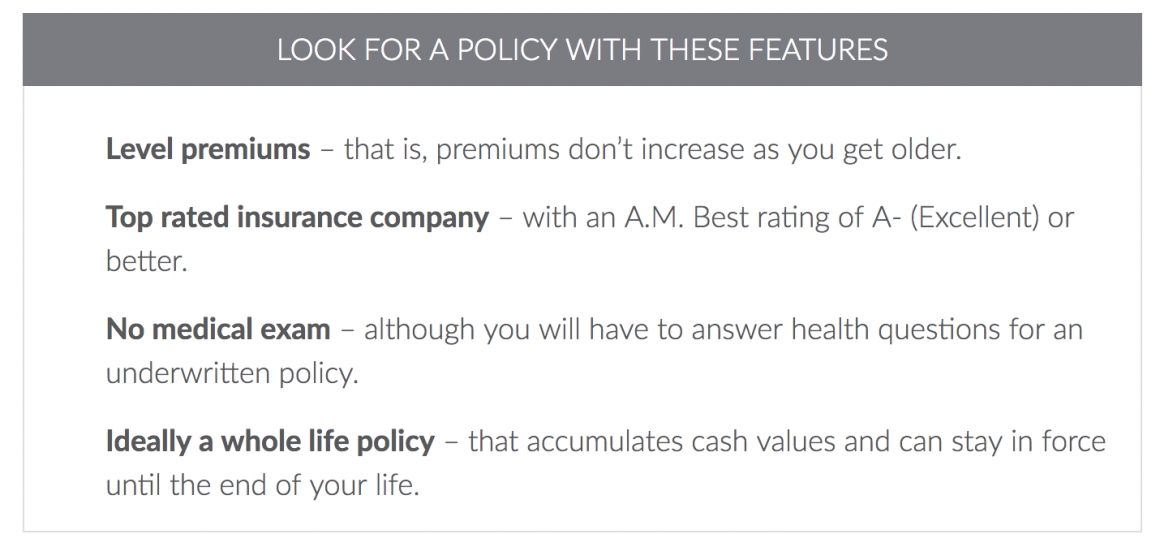 Step 5: Every persons funeral insurance needs will vary. Requesting a quote will allow you to get a better idea of how much you will actually need. If you want an experts opinion, fill out the quote form or give us a call to help you out in all of your burial needs!
Step 6: Figure out of the type of insurance you decide on is the type of insurance you can afford. Insurance tends to be a highly regulated product. For the most part all policies and rates are filed on a state by state basis. Which means you really can't find a discount anywhere. Beware of those offers you may see that are too good to be true. There are companies that will work very hard to sell you insurance plans where the prices increases with age, and the policy expires at a certain age. Do not buy from these companies!
Step 7: Choose a funeral insurance provider that you can purchase through agents like us. We are able to get you the best deal by purchasing directly from the insurance company.  We will be able to walk you through any questions you have a long the way and give you reassurance that the type of funeral insurance you are choosing fits best to your lifestyle.
Let Us Help You!

If you're looking for burial insurance that is the best for you and most cost effective, look no further. Our focus here at Burial Insurance Pro's is burial insurance. That's what we do and what we excel in. The years of experience we have with our clients allows us the knowledge to know which insurer would suit your needs the best.
If you want an experts opinion, fill out the quote form or give us a call to help you out in all of your burial needs!