One of their highest selling products from AARP is the product they offer for burial insurance, more commonly referred to as the AARP Life Insurance Program from New York Life. Whether scrolling through the Internet or even on TV, I'm sure you have come across one of their many advertisements. The reason they advertise this product everywhere is why it's their best selling product. However, with all of those ads they leave a lot of people wondering what it is all about. The following article will give you a complete rundown on what exactly AARP's burial insurance program is all about.
 
AARP  – Who are they?
Let's start with the basics, AARP is as stated through their mission statement "a nonprofit, nonpartisan, social welfare organization with a membership of nearly 38 million that helps people turn their goals and dreams into real possibilities, strengthens communities and fights for the issues that matter most to families". In a nutshell they are looking to help make life better for the 50-plus population and generations that follow by giving them opportunities for financial well-being as well as how to help contribute to society and local communities.
Now when it comes to their burial insurance what a lot of individuals are unaware of is that New York Life is actually the sole supplier of the insurance. In short they pay AARP to sell their burial insurance plans to their members. Although a lot of other insurance companies offer their own type of burial insurance, whoever offers AARP the top dollar to sell their insurance, tends to get the bid. In a few years down the line if another company decides they would like to throw their hat into the ring and offer to pay AARP more than New York Life, then AARP has the right to choose that company and will change the nomenclature of their Life Insurance Program to fit to that company.
AARP promotes these programs for one reason and one reason only, to make a profit. Whoever has the highest bid wins, even if the programs don't necessarily have the best benefits for their members.
AARP Policy Overview
AARP's program consists of three different insurance plans, below you can view a quick snapshot of each of their specific plans.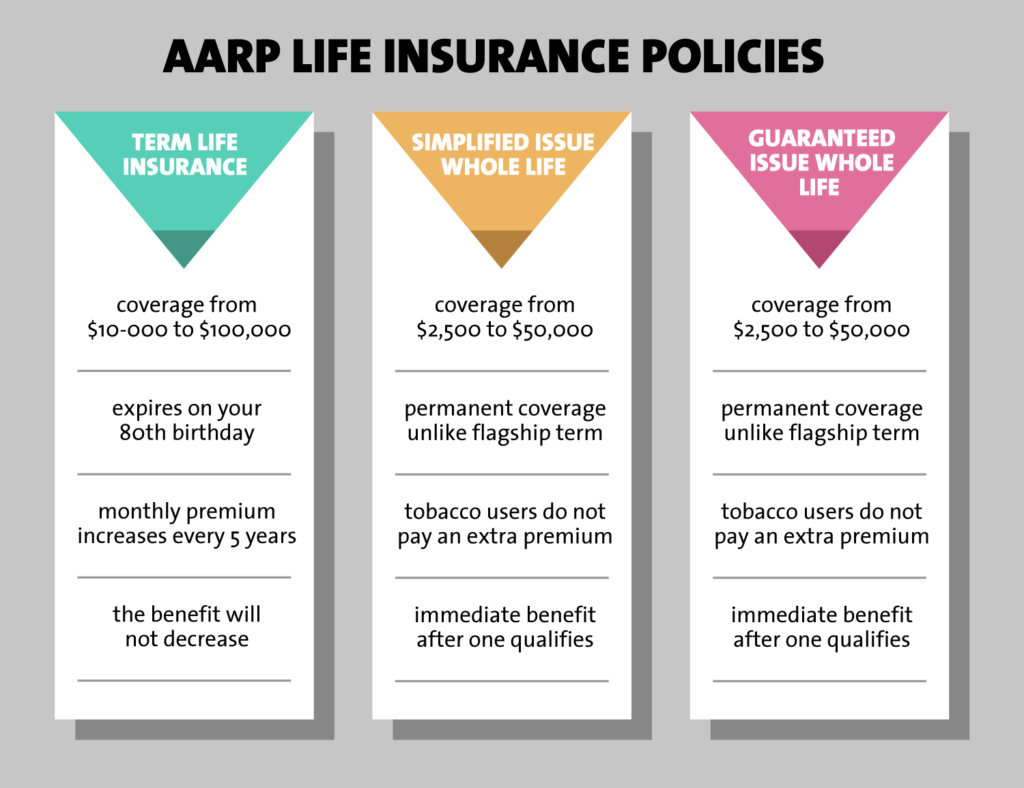 -AARP's Level Benefit Term Life
First and foremost this type of insurance policy does not even include burial insurance.  Although they try to push this policy as burial insurance it does not actually include any type of final expense insurance and is incredibly risky to rely on for final burial expenses. Unfortunately for the consumer they are hoping you don't ask too many questions when it comes to this policy.
Comparing two types of insurance next to each other this type of policy will always be cheaper. You have one that never expires and this one that expires on your 80th birthday, but what happens if you live to be older than 80? This is where the get you. Although the quote is in fact cheaper than most other policies, which they hope that blinds you into asking any other questions, it is always best to read the fine print as to not get bamboozled.
AARP defaults to their term life plan because it in fact makes them the most money. However, with the cheaper premium and the monthly price that consistently increases the biggest kicker is when it expires on your 80th birthday and you are left with your funeral expenses because your insurance is gone. In a nutshell, the policy completely ends on your 80th birthday. You don't get any money back or get the option to renew a new term. Your coverage simply ends. If you still want to have life insurance after this happens, you would need to get approved for new coverage with a different type of plan. If you are in fact 80 and unfortunately fall into the previous category, don't' worry there is still hope.
Although burial insurance is much more expensive now there are still other options out there that will be able to help you achieve permanent life insurance. Although the term life insurance plan by AARP sounds good at first, it's only good for their shareholders not necessarily the members who hold the plan.
-AARP's Simplified Issue Whole Life Insurance
This product is in fact burial insurance that you can purchase between the ages of 45-80. AARP also does not discriminate between individuals who smoke or chew tobacco with this type of coverage. Some of the other benefits include that the policy won't expire, the monthly price won't change, the benefits won't decrease, and it has no waiting period if you qualify. Unfortunately for the consumer the price for their burial insurance is significantly higher than most competitors prices.
The qualification process for this type of insurance is based off of three questions that you will have to answer, but again does not have any bias towards individuals who smoke or chew. Overall this type of protection is overpriced compared to other competitors, but if you are looking for burial insurance from AARP this is your best bet.
-AARP's Guaranteed Issue Whole Life Insurance
This product by AARP is also a burial insurance. It won't expire and the monthly price will not change like the previously stated Level Benefit Term Life Plan. The benefits will not decrease as well. The pricing tends to run middle of the road but there are other companies that offer guaranteed issue burial insurance plans for a lower price.
The best part about this plan is that all you have to do is apply for coverage. As compared to the Simplified Issue Whole Life Insurance plan there are no health questions, no exams and no medical checks. It is, plain and simple, for anyone who applies. The catch however, since this plan accepts everyone, is that no benefits will be paid if you pass within the first year.
Overall it's the best plan of the three, from what it offers and price. Yet at the same time there are other companies that will over the same thing at a better price.
Final Statements
Although a lot of individuals hold AARP as the king for looking out for their best benefit in some cases like burial insurance that is definitely not the case. AARP is in it to make money off of their members, not looking out for their best interests.
We hope this review for AARP burial insurance has helped you understand a little better into what they have to offer as well as their limitations when it comes to their policies. Although they are held at a higher standard because of their name they are a bit lacking when it comes to burial insurance and what they have to offer.
If you're looking for burial insurance that is the best for you and most cost effective, look no further. Our focus here at Burial Insurance Pro's is burial insurance. That's what we do and what we excel in. The years of experience we have with our clients allows us the knowledge to know which insurer would suit your needs the best.
If you want an experts opinion, fill out the quote form or give us a call to help you out in all of your burial needs!
Related Posts
Mutual of Omaha Burial Insurance Plans
Gerber Life Burial Insurance Plans