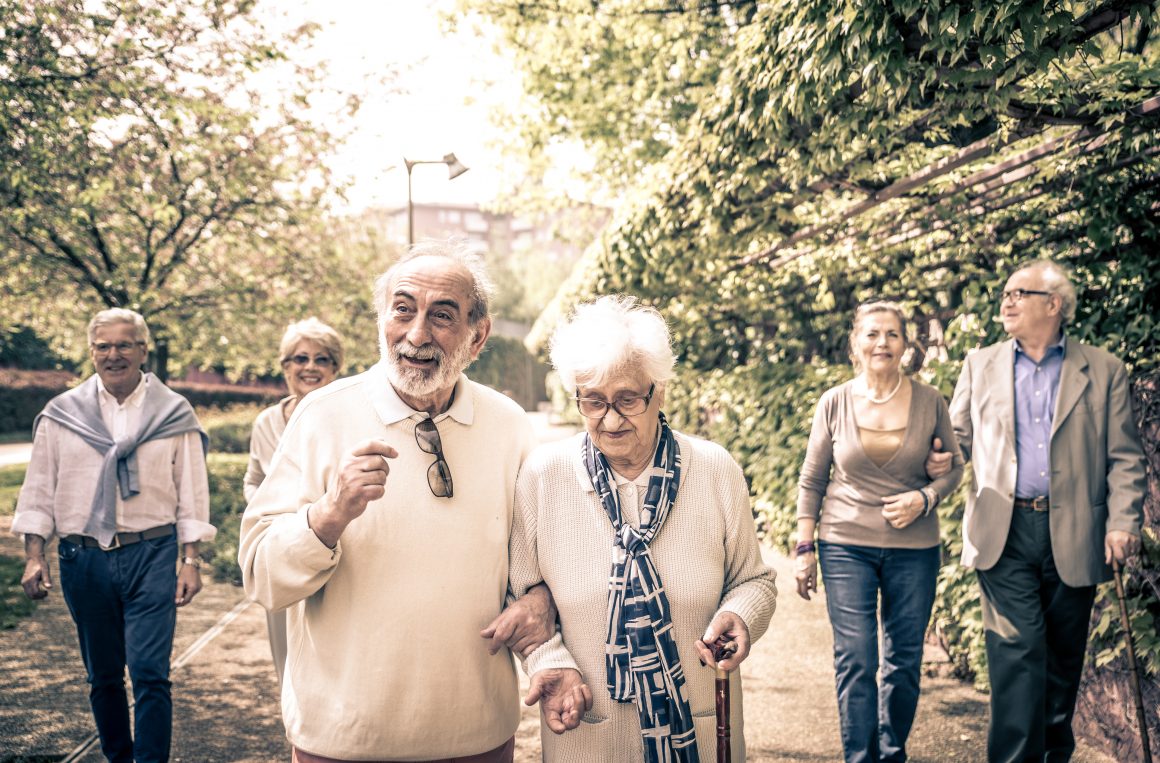 Finding the best type of burial and funeral insurance for seniors can be a struggle. There are a lot of different factors that go into the finding the perfect fit for you. Hopefully this article will be able to shed a little bit of light onto the situation while providing information that will be valuable for anyone looking for funeral or burial insurance.
When it comes to preparing for a funeral many people are oblivious to the fact that funeral arrangements can add up pretty quickly. Being aware of these potential expenses will put you ahead of the game and will help your family out in the long run.
How Much Does a Funeral Cost?
In 2014, according to the National Funeral Directors Association, the average cost of a funeral was roughly $8,508. A noticeable increase in price from 2004, which was about $6,580. Below will give you a better estimate of some of the costs of a funeral courtesy of the NFDA. Please keep in mind these figures are just estimates of the bare minimum cost of a casket and basic funeral services and do not include the cost of cemetery, flowers, obituaries or crematory fees. On average in the last 10 years the cost of a funeral increase roughly 30%.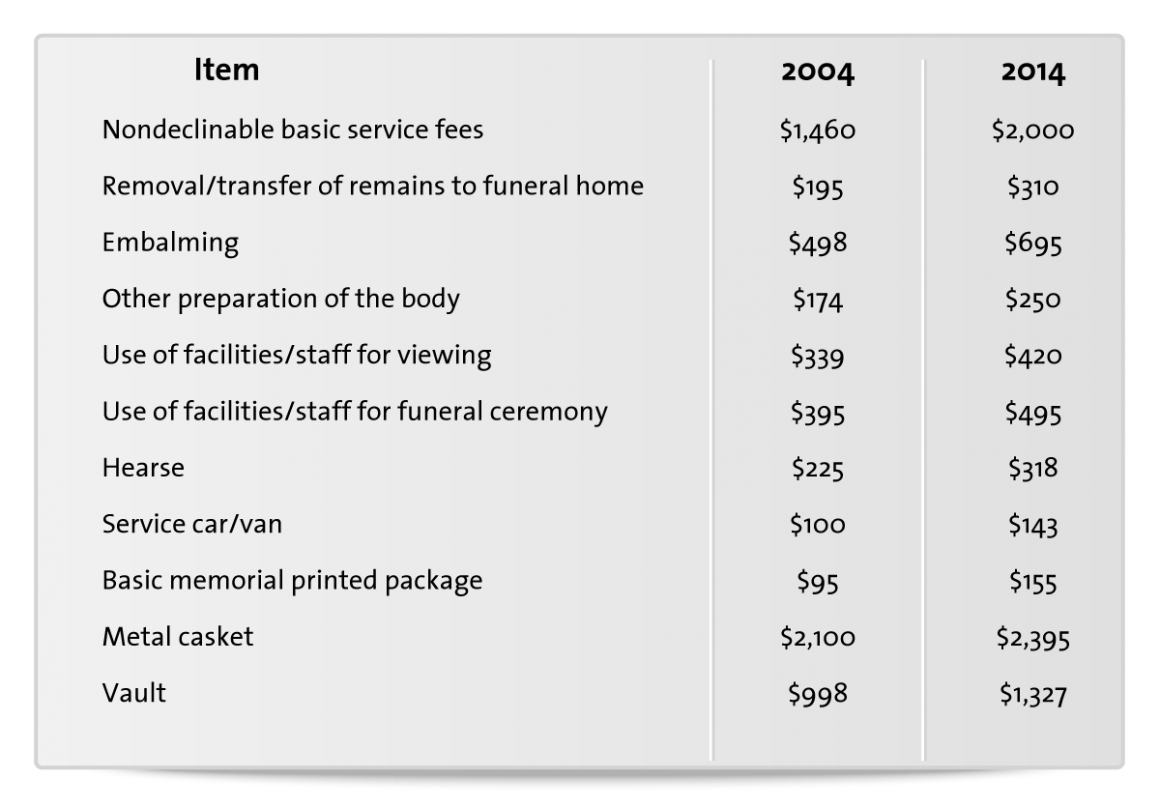 Keep in mind as we discuss your options that both burial and funeral insurance will be used interchangeably. We are also referencing policies that cover burial costs and funeral expenses as opposed to pre-paid burial plans.
Types of Burial Insurance Companies
There are a lot of burial insurance companies out there, but the questions we get time and time again is "who provides the best insurance for seniors?" The key is to take a look at their A.M. Best ratings for finances as well as their options when it comes to burial insurance.
Currently the top ranked insurance companies include what you see here. They are single-handedly known across the board as being some of the best insurance companies out there for seniors.  The Mutual of Omaha Burial Insurance plan is one of the best.  Each company offers different terms and conditions but still allow you to get the best bang for your buck. The biggest key is assessing the needs we discussed previously, so you know how much you will need to be made available for the future.
Burial Insurance Overview
Often times we come across individuals who have waited too long to get a life insurance policy. They now have time and health problems working against them, causing their premiums to sky rocket. We regularly secure affordable life insurance for diabetics and individuals with heart or other health issues. The biggest rule of thumb you must always remember when looking into burial insurance is that the sooner you obtain insurance, the better off you will be.
Although you could purchase guaranteed issue life insurance, you would have to deal with the extremely high premiums and the death benefit does not become active for an additional 2 years after the purchase. Instead we recommend to opt for the burial insurance plan which is a smaller type of simplified issue life insurance policy.
Once you have it, it guarantees that there will be money available for your beneficiary in the time of your passing. On top of the previously mentioned costs above there tend to be other bills that also need to be considered.
– Credit card debt
– Medical bills
– Travel expenses for out of town relatives to attend the funeral
– Income loss
These items, if not accounted for can add up quickly. If you have a burial insurance policy, upon your passing the money will be paid and can be used towards all of those things as well as any other final expenses or burial costs.
Keep In Mind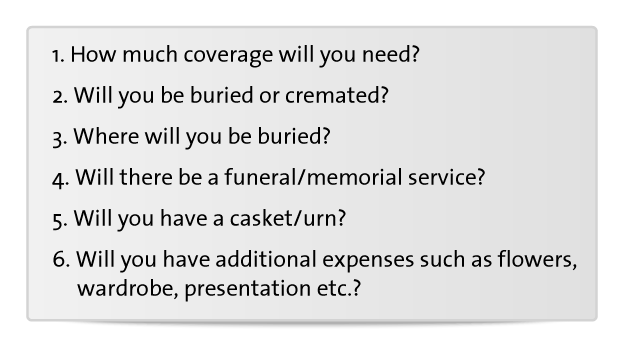 When it comes finding the best burial insurance policy for seniors over 80 be sure you are able to answer the following questions. Once you have the answers to these questions, you will have a better idea of how much coverage you will require.
Types of Burial Insurance Coverage
Figuring out The Best Type of Burial Insurance will be your next step, figuring out if you will need pre-paid or pre-need insurance.
Pre-Paid Coverage – will allow you the opportunity to pay for the funeral in advance without having all of the details finalized. The best option for seniors allows you to take the stress off of your family members and have all of the details and planned and ready to go upon your passing. This is a huge benefit when it comes to pre-paid coverage. You take all of the guesswork out of everything for your family members as well. Another huge benefit is that you are able to lock in today's funeral rates and not have to worry about any type of inflation and pay for it in installments. The biggest drawbacks being some policies may not allow the flexibility you need with transferable options. This is something you want to really be aware of when initially setting up the coverage. Not only that but it also doesn't allow your family members to pay for final expenses, it only covers the funeral at that specific funeral parlor. So this might not be the best options for seniors looking to cover funeral expenses.
Pre-Need Coverage – the best options for seniors will allow you to set all the details at a later date. Instead of making all of the decisions right away you will be able to postpone the decisions until a little later on. It gives you an extra little bit of time to figure everything out with your family. Whether it be programs, flowers, music or whatever you might want at your funeral, these needs will be figured out ahead of time. The biggest drawback being that instead of having installment payments there is a lump some payment at the time of death.
Costs of Burial Insurance
For the best options for seniors we are going to be honest with you, this will vary depending on the type of policy you choose, if it's guaranteed issue or simplified, the face amount, provider, as well as your age and health.
When searching for the best options for seniors a general rule of thumb is the younger and healthier you are the lower your rates will be. You will also have a little lower cost with premium payments by paying annually as compared to spreading it out over the course of a year.
How We Can Help You!
If you have ever tried to obtain the best life insurance options for a senior burial insurance plan on your own, then you know that it is tough. There are more companies and more questions than one could possibly count! The process can be overwhelming and discouraging – especially if you are talking to the wrong insurance companies.
At Burial Insurance Pro's, we have the knowledge and how it relates to the best options for seniors for burial insurance . We know the ins and outs of these companies, including those who may or may not approve you for a reasonably priced policy. Why waste time and energy seeking policies from companies who will just decline you or ask you to pay a ridiculously high policy rate?
We have helped many people find the coverage they need at a price that is affordable. We know your options and we help you sort through them – answering any questions you may have along the way. You are not in this alone.
Contact us today to get started!